Longs Peak, May 1998

Longs Peak stands 14,255' and is the 15th highest peak in Colorado. Located in Rocky Mountain National Park, Longs is part of the Front Range and clearly visible from Estes Park. We attempted the North Face and Keyhole routes, but were turned back by severe winds and ice. The Diamond face of Longs Peak is a popular destination for free and aid climbers alike. It isn't difficult to see why this fourteener is named one of the fifty classic climbs of North America. Also well deserved is the reputation of Longs as a peak chronically burdened by wind. I traveled alone until the morning of day three when I was met by a guide from Colorado Mountain School.


(click to enlarge)

Day 1, Trailhead to Battle Mountain (11,600')
Located at timberline, this site offers the first unobstructed view of Longs since the trailhead. I chose to camp here to help my acclimatization.

Self-portrait near the trailhead

Longs Peak from the Battle Mountain campsite (Perfect conditions today)

This looked like a good place to relax, but I had better set up before the snow hits!

Too late. The afternoon storm moved in before I had a chance to set up

All clear

Day 2, Battle Mountain to the Boulderfield (12,400')
A six mile climb behind me and only Longs ahead. Periodic snow and wind were the norm for the afternoon. Today's storms intensified through the night and continued through the morning. I met a pair of climbers last night and offered space in my tent for shelter, but they insisted on an icy, open bivouac despite my invitation.

Longs Peak as seen from the Boulderfield

A good view of snow blowing across the Diamond from the North Face Ridge

Fore and aft views of my Boulderfield camp

The beginning of the end (eve of the climb)

Day 3, The Climb
The winds driving yesterday's storms were opposite from prevailing and kept us from the summit. Attempts to summit were made via the North Face and Keyhole routes. Unfortunately, photography was dangerous under the circumstances.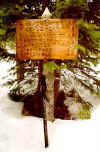 ---
Top - Other Peaks - Back